Uf Grad Work and Professional Developments
I created this page as a portfolio of my work done in the field of education. If you are looking for my grad work by course please see the UF Grad Studies tab on the website menu above. Free lesson plans and educator resources are also posted here.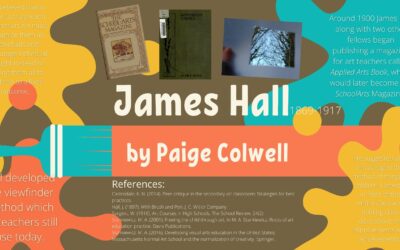 Great Moments in Art Education History: James Hall   In the 1890s there was a shift in education to make schools less rigid and more humane towards children. Modernist ideas had begun to become popular in mainstream culture, including the belief that artwork should be...
read more
Scan of My Personal Art Education Illustration. The scanning process removed a lot of the fun from the metallic paints. I've included another picture of this image at the bottom to try and capture those nuances.  My Personal History of Art Education My grandmother was...
read more