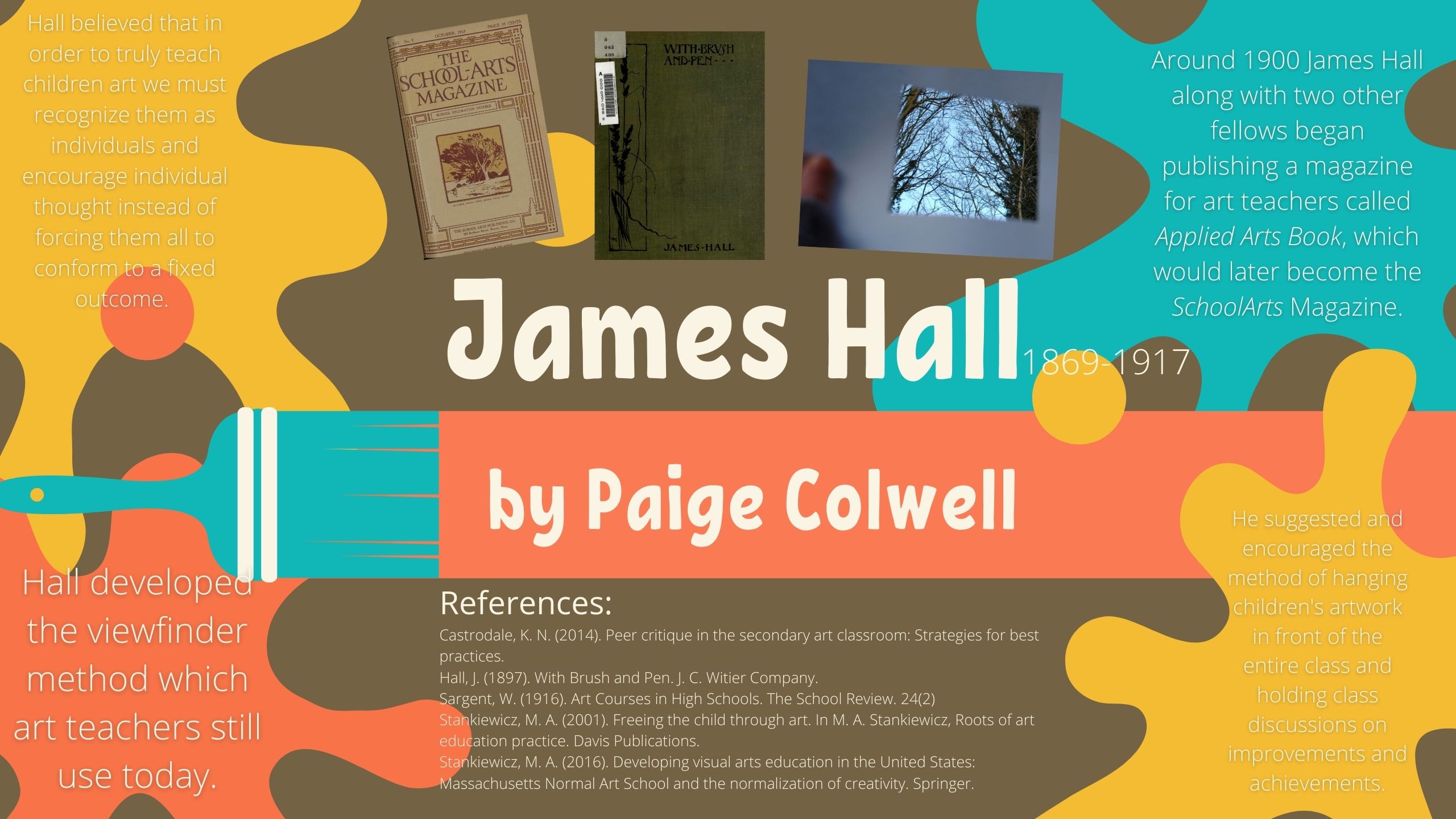 Great Moments in Art Education History: James Hall
In the 1890s there was a shift in education to make schools less rigid and more humane towards children. Modernist ideas had begun to become popular in mainstream culture, including the belief that artwork should be created for the purpose of expression. This led to widespread criticism of how art was being taught in schools, which was following step-by-step mechanical drawing instructions. It was at this time that James Hall began to use brush and watercolor in his classroom instead of just pencil. Art educators began to look at psychological research and practices of contemporary artists when building lesson plans. (Stankiewicz, 2001, 26-30). 
"A broader conception of art education is coming into existence among the directors of drawing in the public schools. That the individuality of the child should be respected and his own expression encouraged, that he should be made to feel himself a creator and that he should be led to see (the) beauty and to create things beautiful – these ideas should permeate the work of the teacher" (Hall, 1897, 1). Hall believed that in order to truly teach children art we must recognize them as individuals and encourage individual thought instead of forcing them all to conform to a fixed outcome (Hall, 1897, 1).
Even so, he still believed that teaching artistic techniques was important. He taught technique while still allowing for creative freedom within his classroom, while other teachers abandoned technique completely (Stankiewicz, 2001, 27-29). Hall himself was largely influenced by the Arts and Crafts movement at the time, perhaps that's why he maintained the importance of the technical side of creation (Stankiewicz, 2016, 167). 
In his own book, With Brush and Pen, he describes his belief that specific instruction on tools and techniques is sometimes necessary or "carelessness" will be found in the work. He also places the decision of what materials to be used upon the subject to be drawn and the individual needs of the student (Hall, 1897, 1-5). This line of thinking resembles, to me, very closely the idea of a choice-based classroom. Within the pages of his book, you can read the fine line he walked between complete freedom and technical knowledge. Vocabulary was given a place within his proposed curriculum. It should be learned, but it should not be mistaken for the most important part of instruction, nor should it be instruction on its own (James, 1897, 6).
Around 1900 James Hall along with two other fellows began publishing a magazine for art teachers called Applied Arts Book, which would later become the SchoolArts Magazine. Its stated mission was to promote 'sound art instruction'. (Stankiewicz, 2016, 165). SchoolArts maintains that mission to this day and is still published and used by art educators across the country. I have a subscription to it currently and frequently use it for research. There is a stack of old issues on my desk with page flags and sticky notes poking out from all sides. 
He developed the viewfinder method which art teachers still use today (Stankiewicz, 2001, 28). This is a method in which students cut a square or rectangle shape out of card stock, cut the middle out, and use it to create a frame. They can then frame their real-life drawing subjects or even use it to crop an area out of still life. It helps to keep students focused and not overwhelmed with the translation of drawing from life to a confined area on paper. 
He encouraged the use of one method of critique or review in which students hang their work on the wall followed by a class discussion of which pieces are the strongest, and then students discuss how to make improvements to their work (Stankiewicz, 2001, 28). This has become the staple method of analysis in the contemporary arts classroom. Some states even include it in their standards. While there have since been several methods of critique developed this basic technique remains the most common (Castrodale, 2014, 1).  
In 1916 Walter Sargent wrote an 11-page review on art curriculums in high schools. In this review, he mentions the back and forth in arts programs over their purpose. Should they be focused on technical skills or should students be allowed to freely practice expression without the instruction of skills? Sargent outlines many programs, including one developed and taught by James Hall (Sargent, 1916, 1-8). I can only imagine that he was included in this publication because he was regarded as an accomplished art educator. His influence through classroom techniques to the SchoolArts magazine is still felt in art education today. 
References
Castrodale, K. N. (2014). Peer critique in the secondary art classroom: Strategies for best practices.
Hall, J. (1897). With Brush and Pen. J. C. Witier Company.
Sargent, W. (1916). Art Courses in High Schools. The School Review. 24(2)
Stankiewicz, M. A. (2001). Freeing the child through art. In M. A. Stankiewicz, Roots of art education practice. Davis Publications.
Stankiewicz, M. A. (2016). Developing visual arts education in the United States: Massachusetts Normal Art School and the normalization of creativity. Springer.