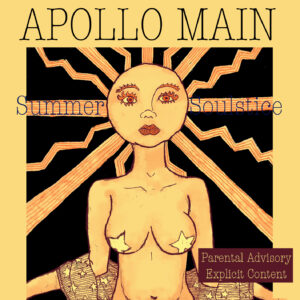 This Friday you get a double dose!
2014 seems like a lifetime ago now. I was living in Brooklyn, very near Coney Island. I worked in the Lower East Side. My boss was a hip hop mogul, owned an art gallery, and a few clothing lines. At that time I spent my days at the gallery working on  one project or another. I can't remember exactly when, but a young man walked in with a stack of cd's. He asked if I could make sure my boss got one. I was honest with him, no way in hell was he going to listen to it.  He got about a dozen mix-tapes everyday.
But I took one home with me and gave it a listen.
It wasn't too long after that he came back. I found out then I was talking to Franky Baez, better known as Apollo Main. A hip hop artist from Long Island. The cd he had given me was Out of Body Experience. He told me he had looked me up and found my website. This was the first time this had ever happened to me, so I was pretty much freakin elated. He was working on a new album and wanted to know if I was interested in doing the album cover. Heck yeah I was. I'm freelance, I need money. Let me say here and now, Apollo Main is the PERFECT client. He is always polite, clear with what he wants, and interested in the process. Besides all of that I fell in love with the music when I came across White Tiger. Seriously, go listen to it.
Anyways he told me the name of the Album was Summer Soulstice, and for some reason I couldn't get this image of a sun goddess out of my head. I've done album covers before. I spent my college years making art for small bands in the very musical Memphis. Those bands have all long since disbanded and those album covers are lost to failed hard drives. None of them ever turned out as well as this one though.
It even got a review.
My co-worker, smoking buddy and neighbor at the time Sera Gillow even did a video for a track on the album: Far More Beautiful.
As I said before, we lived very near Coney Island. It was the perfect spot.